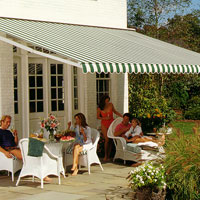 We offer original, beautiful and practical solutions to make your terrace delightful. Our products have smooth fabrics with lines, ornamental finish and complete protection.
Specifications
Types: Automatic and Motorized
Projection: 6 ft. to 15 ft. Width: Up-to 200 ft. Arms: Normal, Medium and Heavy Arms
Gears: 1/2/3 and Nanak Jumbo Gear (For bigawnings)
Frame: Powder Coated and Anodized
Fabrics: Single Side Coated, Double Side Coated, Strips, PVC Fabric & Acrylic Fabric
Use: Residence, Hotels, Farmhouses, Shop Fronts, Commercial Places etc.